Titan Custom Yachts was established in 2001. Their state of the art facility is located in Bishopville, Maryland. The Titan boat shop was designed to build high quality custom sport fishing yachts in the 50' to 80' range. Presently, there are two construction bays and a third bay, which will be a paint/spray room is under construction. In addition, the location offers a separate 1800 square foot office and brokerage division. The brokerage division is an added benefit to clients who choose to trade their current vessel in order to move up to a larger vessel.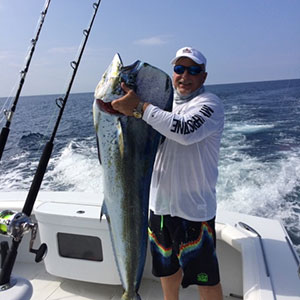 Russ Garufi
President and Owner
Titan Custom Yachts was started in 2001, with the plan to build a 58' sportfish to suit the needs of the company president, Russ Garufi. He wanted a custom built boat that would handle long runs up and down the coast and to the canyons with superior comfort and speed in unfavorable weather conditions.
Garufi has owned several boats over the past 35 years, all of which were production boats. He has fished from Florida to Alaska and wanted a new boat that was built his way with ultimate luxury and a paramount ride. Ease of service for pumps and motors was a primary objective. In addition, live wells that do not loose their prime when backing down at 10 knots was important. Building the first boat was so rewarding and satisfying he knew he wanted to share the experience with others, thus the birth of Titan Custom Yachts Inc. Garufi personally oversees construction of every boat and his passion for detail and quality is unsurpassed!
Titan owns a factory outside of Ocean City Maryland that sits on 58 acres and is ready for expansion, so come grow with us. You owe it to yourself to visit Titan Custom Yachts Inc and sea trial one of our battlewagons.